Sharpen your staff's skills with online courses and programs.
The International Gemological Institute (IGI) is offering interactive learning online, with optional customization. eLearning with IGI is provided on a variety of topics, from introductory 4Cs, diamond and gemstone training, to comprehensive education about lab grown diamonds to the significant benefits the natural diamond industry brings to millions of indigenous people in the upstream value chain.
IGI's eLearning courses and programs can be customized for the target audience, emphasizing information which can be used in-store immediately. The educational components don't change, but IGI supplements the essential knowledge with added context and messaging designed for the client. As explained by IGI North American President Avi Levy:
"We suggest different talking points for a luxury brand than we do for an e-commerce seller. The basics stay the same, but we help them use the information in their context immediately. We've received a lot of positive feedback for this approach."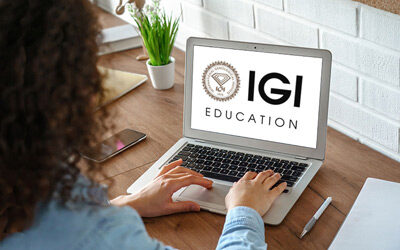 For the past 13 months IGI has conducted ongoing seminars for jewelry professionals, trade organizations and jewelers in several sectors, including leading luxury brands. Those seminars are similarly customized for the target audience.
For more than 45 years IGI has served the industry with world-class evaluation and grading of fine jewelry, gemstones, and natural and lab-grown diamonds. Consumers worldwide are aware of the importance of the 4Cs. With this focus on educating sales professionals across a variety of topics, the Institute continues building the "Fifth C" – which is vital for professionals – Confidence. As expressed by Levy:
"There's a lot happening in our industry right now. Those who know the latest developments are going to serve their clients best."
For information on eLearning with IGI, contact newyork@igi.org. To learn more about IGI visit www.igi.org and gemblog.igi.org.